The following is a free web development course I created awhile back that will teach you how to create a very basic blog using WordPress. This course is perfect for anyone who is new to web development or just WordPress in general.
If you want to grab the full course of Udemy you can do so here.
Check out this cool little info graphic that basically sums up the whole entire process of creating a blog with WordPress.
Alright, now that that's out of the way let's get started…
Introductory To The Course
What Is WordPress
Welcome to the first video of my course. In the first video we are going to go over what exactly WordPress is and why we are going to use it to build a website.
WordPress is the biggest content management system on the web, and it is for a very good reason. It's easy for everyday people to use, and it has all kinds of cool features and plugins, and best of all it's completely free to use.
Now, let's look over a few popular websites that are using WordPress. So I managed to find this cool article on the internet that showcases some of the top blogs using WordPress right now. So as you can see we have Telecrunch, we got The New Yorker, the BBC website, the Star Wars official blog, and even Variety, and Sony Music.
So there's some pretty big websites that are using WordPress. As you can see, all these websites look amazing, and with WordPress, everyday people just like you and me can build websites and make them look amazing, just like the ones I've shown you so far. And you don't even have to know a single line of code, that is the best part.
Now that we have a better understanding of what WordPress is, let's go over the two different ways we can start building a WordPress website and get right into it… to be continued.
The Difference Between WordPress.org and Self Hosting WordPress Blogs
There are two different types of WordPress websites that we can create online.
The two different types are a free hosted website on WordPress.com and a self-hosted WordPress install on your own domain and hosting account.
In this video, we will briefly go over how to set up a free website and go over the pros and cons of doing so.
In order to get started, we will need to head on over to WordPress.com.
We will then click the giant blue button in the middle here and begin the process of creating our own free website.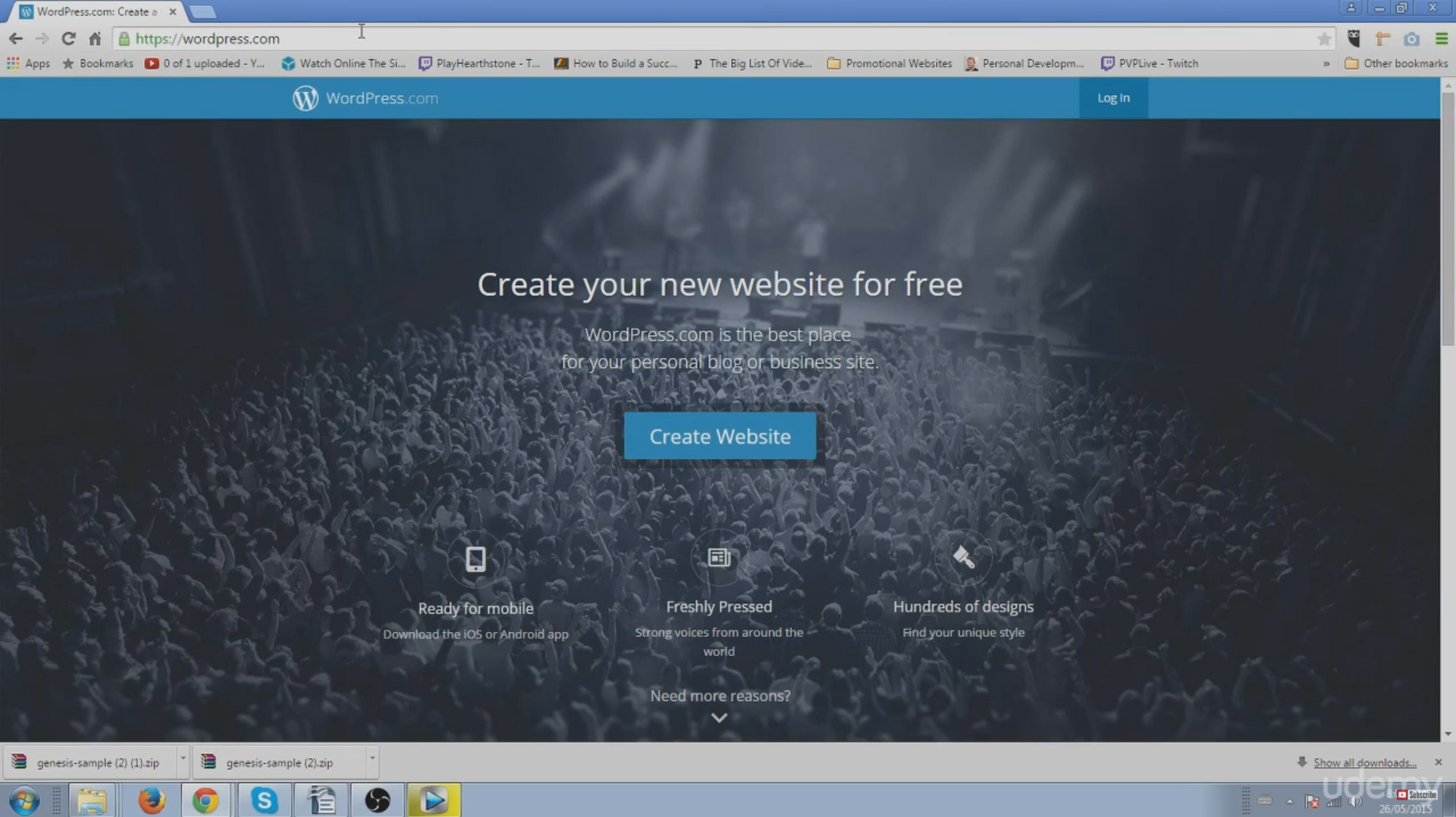 Next, we pick the site address of our blog, which would generally be the name that our site to be called.
Let's go with www.LearnHowToCreateWordPress.com, or whichever you prefer. We will click "Create Your Site" and the screen that follows will pop up.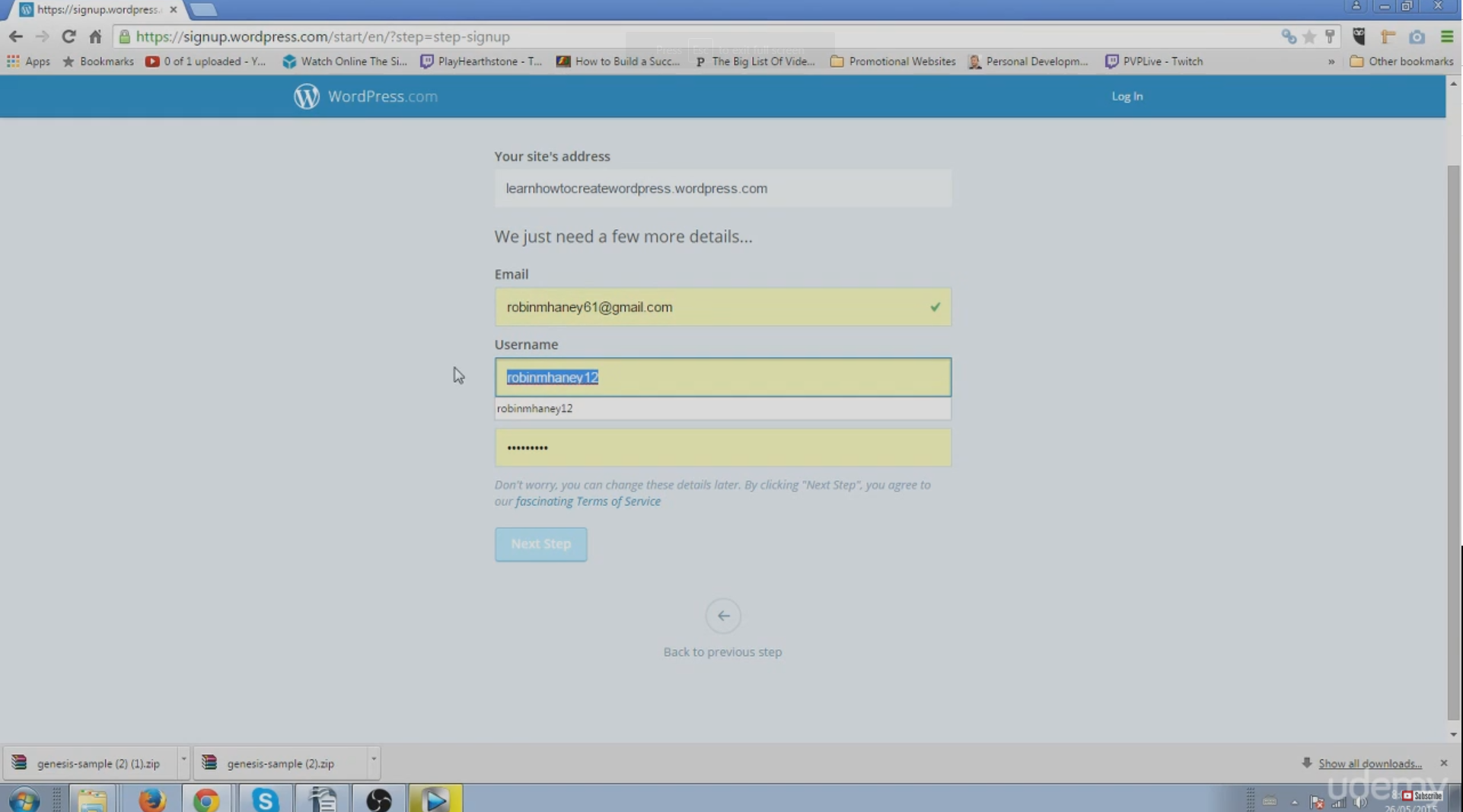 We will enter our email and username details quickly and complete this step.
We then want to click on "No Thanks" and select the free option for our blog.
Now if we click on "My Site" and then view our website, we can see that everything is correctly set up and working just the way we want it to.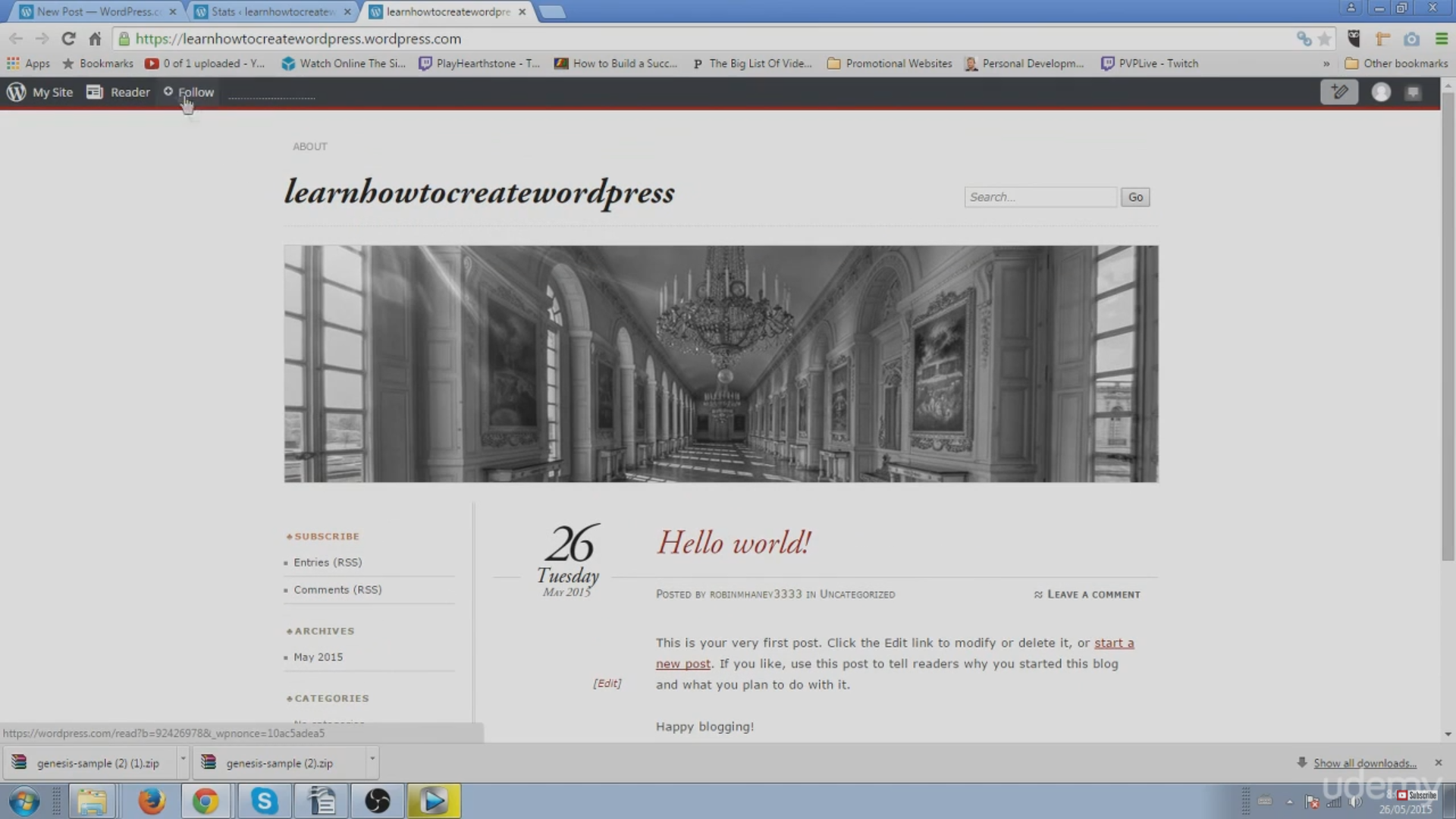 We can go back into our dashboard and add posts and pages and get started with designing and changing how our new WordPress blog will look.
The pros of using this approach is that we can get a free website set up quickly and working on the web.
For some people, this will work perfectly fine. But if you are really serious about your website, you are going to want your own domain name and hosting account so you can access more features in WordPress, have more control, and, more importantly be in 100% control and ownership of your website.
In the next video, you are going to learn exactly how to set up a domain name and get started creating your very own self-hosted WordPress website.
What is a Domain Name?
In this video, you are going to learn exactly what a domain name is and how to buy a domain name from an online domain name provider. I'm also going to go through some simple and quick tips for when it comes to picking a domain name that you can use for your business as well.
First of all, what exactly is a domain name?
Well a domain name is basically the homepage URL of your website. For example, if you go to the google.com homepage, we can see that the homepage and domain name is www.google.com or, in this case, google.ca.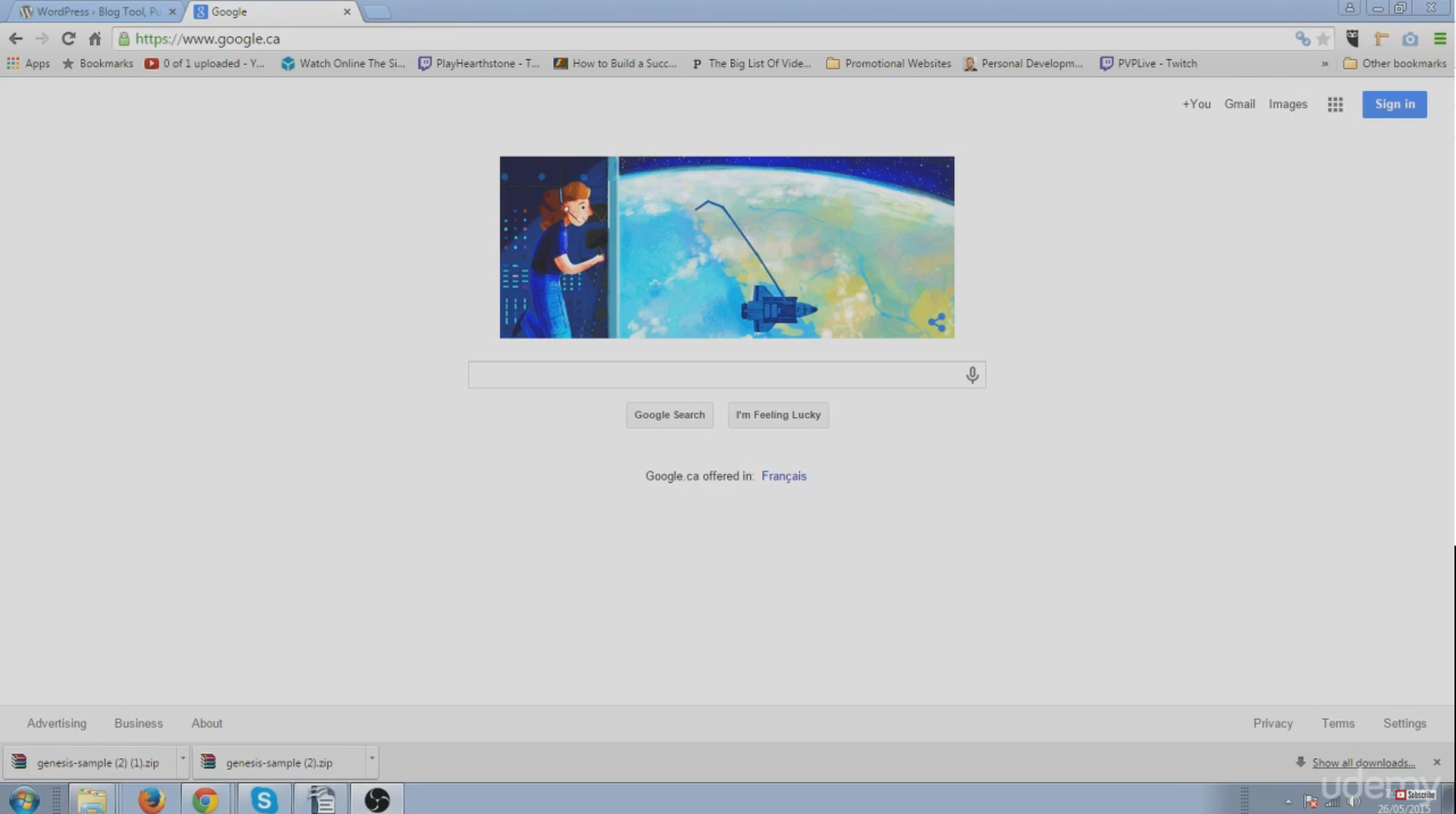 When it comes to picking a domain name, you would normally pick the name of your company or business or, in the case of my own personal blog, you could pick your name as well so when people search for me , they would know how to find me.
Now, we are going to head on over to godaddy.com, which is also an example of a domain name.
You can find GoDaddy by typing it into Google.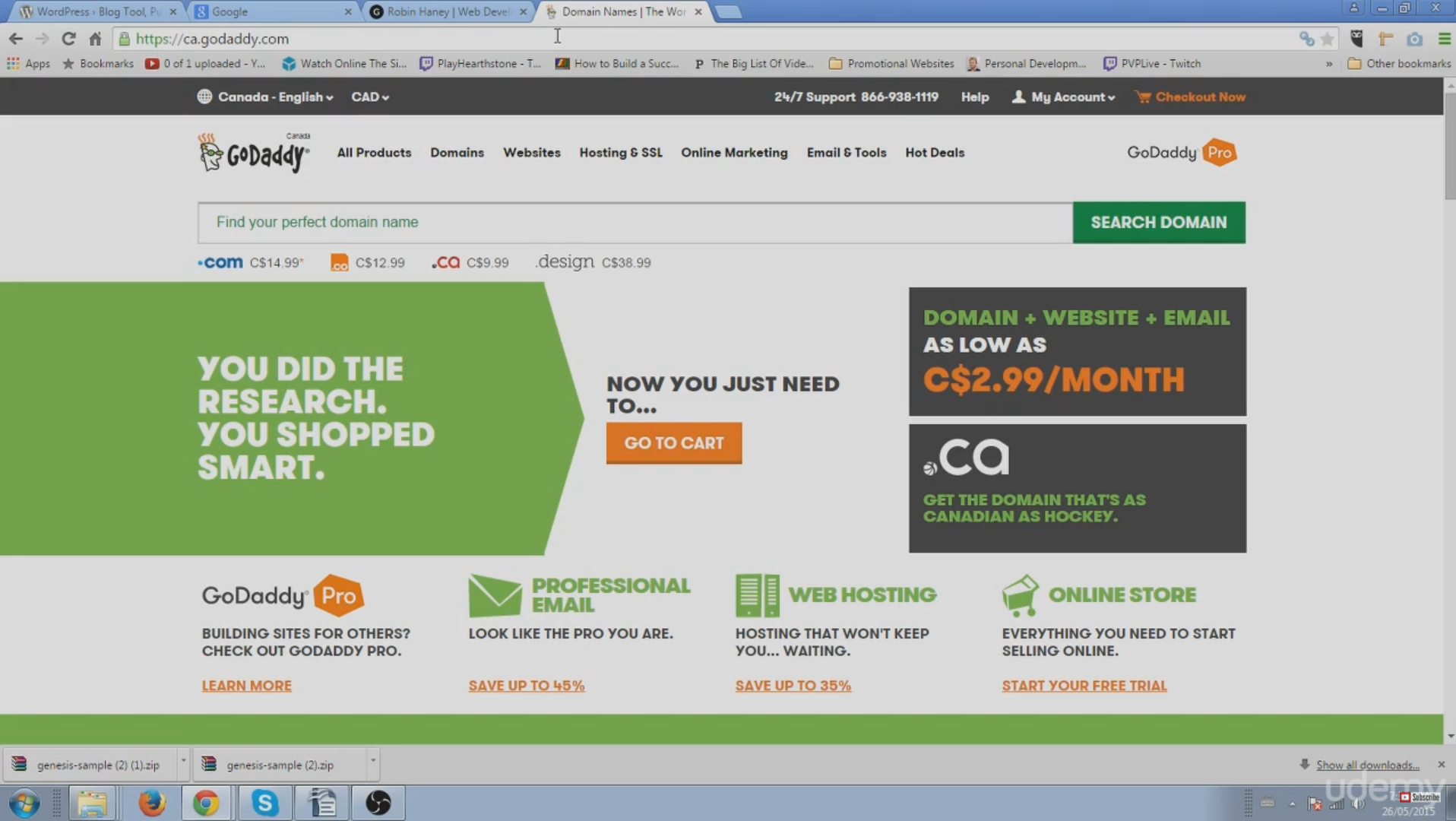 Now, that we are on godaddy.com, this is what we see on the main homepage of the website. If we are interested in a particular domain name, we can type it into the search box here and see if it is available for us to purchase. The domain name for the project that we are going to be building throughout this course is www.learnhowtowordpress.com.
We can see that our domain name is available as well as the .com extension which is ideal in most situations. If you can't manage to get a .com extension for your website, that is fine. Any other variations such as .net, .org or even .info will do just as well if needed.
Now, we are going to hit the select button. It would take us to this next screen. On this next screen, we are going to decide if we want to purchase a hosting account to go with our domain name as well. When it comes to hosting, I like to keep my domain name and web host with the same company. It makes support and everything much easier to manage.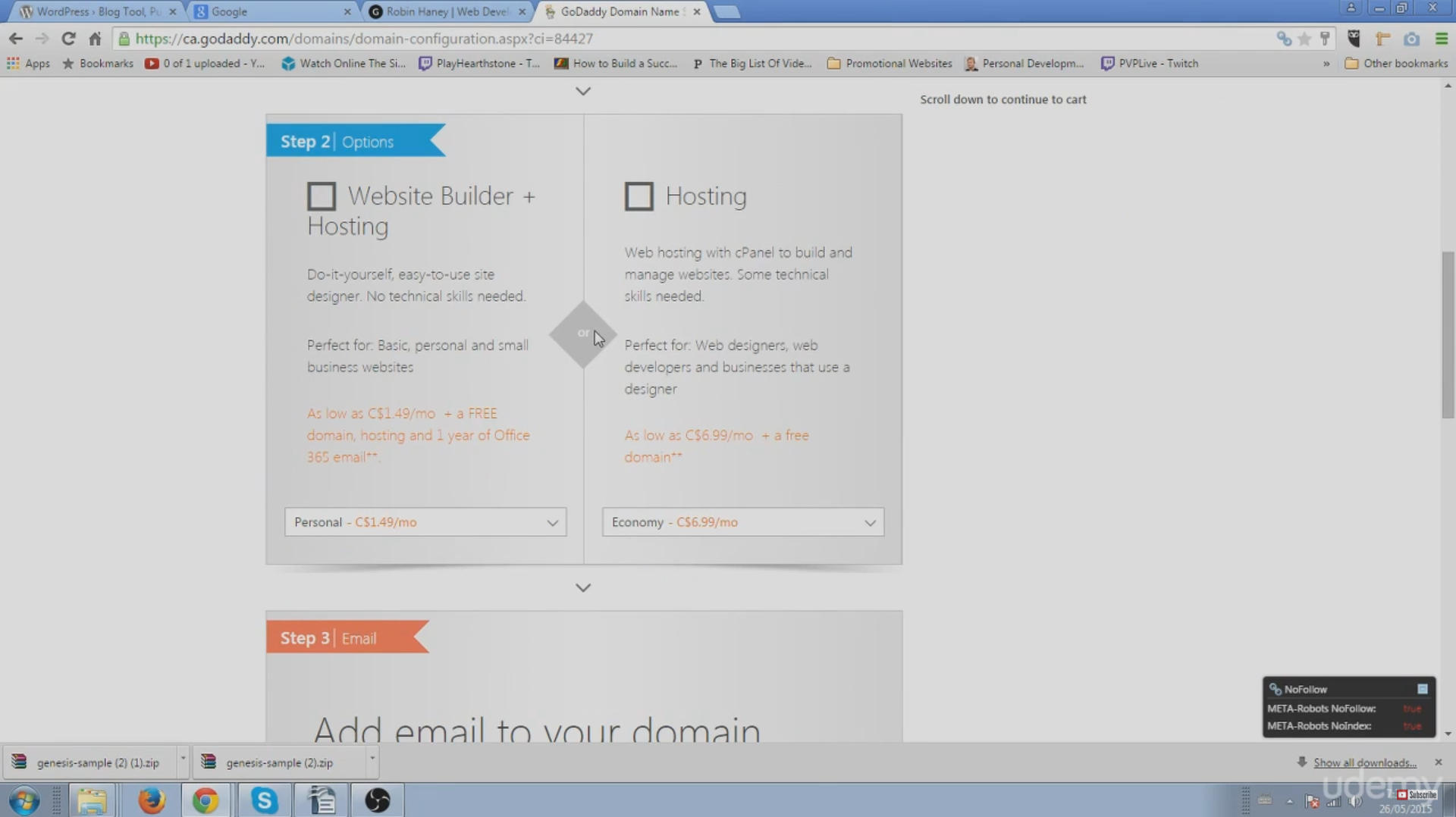 The economy hosting package or the deluxe hosting package. I'm going to go with the deluxe here since it is a better deal.
Once you have decided on the hosting plan you want, we will scroll down and go to the next screen. Here, GoDaddy wants us to select our payment plan and details.
I'm going to go with the one year plan for the domain name and the one month plan for the hosting package as well. Now, that we have finished selecting our plan for a web host and domain name, we will see the total invoice on the side and we can proceed to the check out.
If you are a new customer to GoDaddy, you will want to fill out your details here and, if not, you can log in to the side. We will select "new customers" since most people watching this video will probably not have a hosting account previously set up. Fill in your personal information and pay for your order and now you have your very own domain name!
In the next tutorial we will be installing your Domain name servers and installing WordPress!
How To Set-up your Domain Name Servers
At the end of this video you will have a good, solid understanding of what a hosting account is, and how you can link your domain name and hosting account together so that your website can be live on the internet. We are going to cover name servers, C panel, and all that fun stuff in this lesson as well.
Now, if you remember where we last left off we had just finished purchasing a domain name and hosting account through godaddy.com.
Now, if you log into your account and head onto the manage my domains page, you will be shown a list of all the domain names that are currently registered on your hosting account .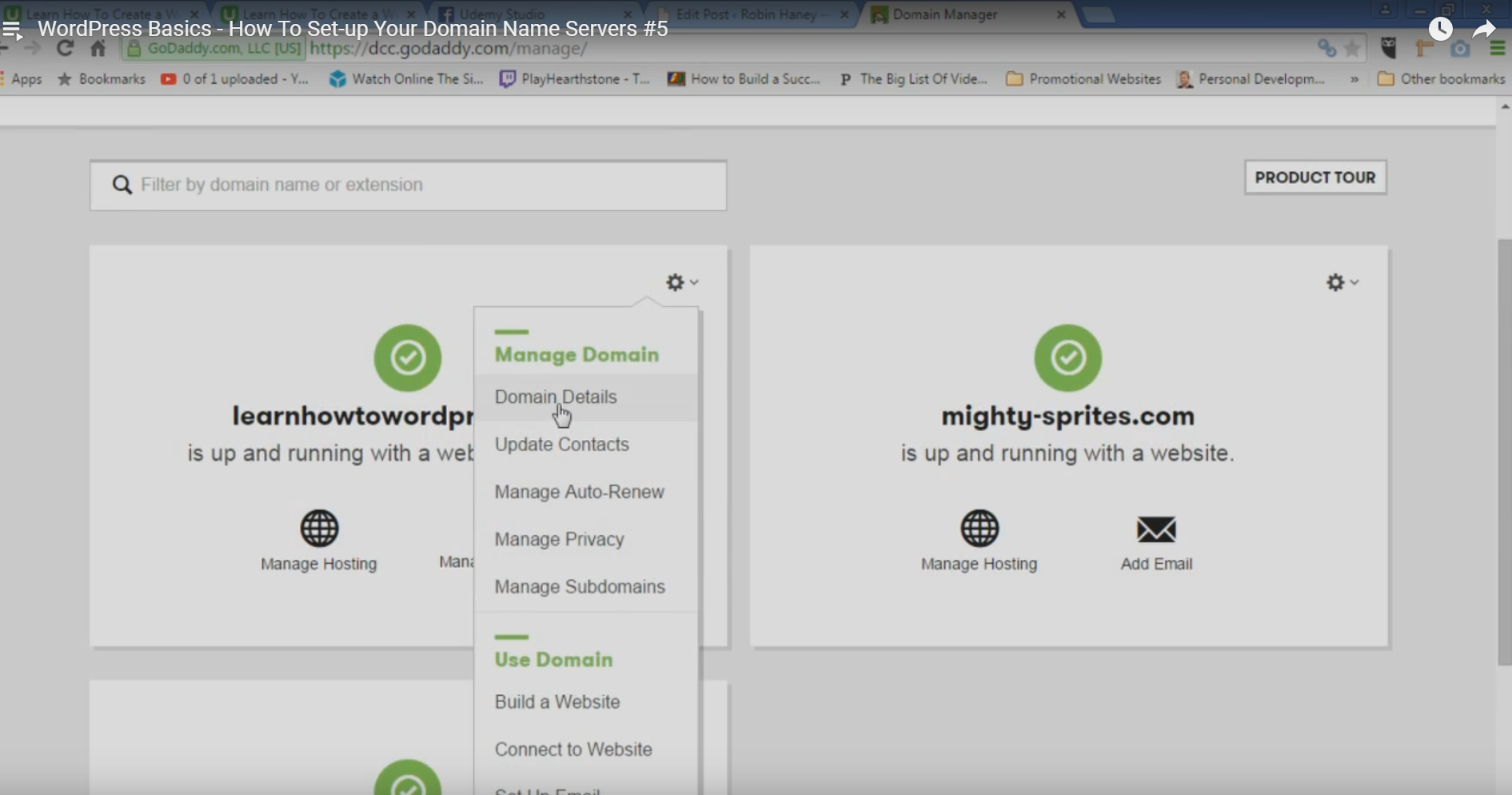 We are going to see our domain name, learnhowtowordpress.com here, and we are going to click the drop down arrow and go to the manage my domain section.
Now, if you purchased your domain name and hosting account through GoDaddy they might have already set this up, but we're going to have to go through it just in case. This process can also be applied if you have a different host with a different company as well.
To begin, we will manage our name servers and make sure they are pointed to the domain name servers that we set up with our hosting account. Now, when you first signed up for your hosting account your host should have sent you a welcome email with all the details you need to do this. In that email, you should have your name servers as well. What we are going to do here is point our domain to those name servers.
In our case, our name servers are ns27.domaincontrol.com and ns28.domaincontrol.com. Double check to make sure they are correct, and after you are done typing them in make sure you click save. Again, your name servers should be sent in your welcome email. If you ever lose your name servers or need help with this step, try sending a support ticket to your web host, and they will give you all the answers you need.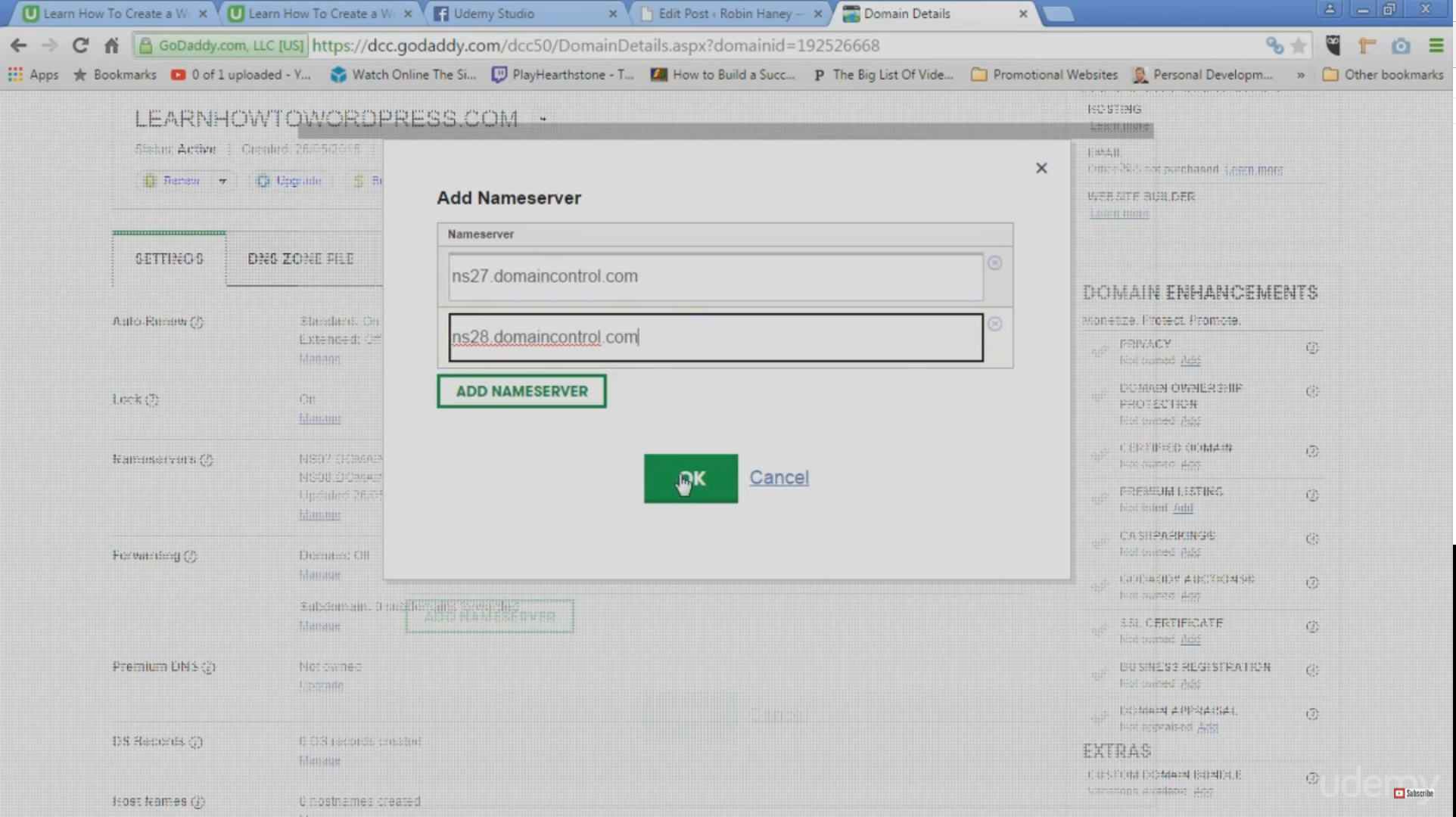 Once we have done that, we head back to our domain name section. Click on the arrow and go to build a website. Next, we will navigate to the hosting tab and click on use your domain, which will automatically connect our domain name to our hosting account on GoDaddy.
Now when we click manage we are taken to our domain name control panel where we can access all the files for our domain. Don't worry about any of this stuff yet.
We will learn about it as we go.
There is one last thing we need to do just before we are finished up here. We need to scroll down to the domain section and navigate to the add on domains icon. Now we need to set up our domain name we just purchased and connect it to a hosting account. If you're using a host other than GoDaddy, you will need to navigate to your C panel on your web host and follow the same steps.
In the first box we will type our domain name, and the sub domain and document route will automatically fill in, so you don't need to worry about them. We will click add domain name, and if you refresh the page after it's done loading, if you scroll to the bottom we will see our domain along with any other domains that we have currently registered on our hosting account.
Now that's pretty much it. When you're done here, you can move on to the next step, which is installing WordPress on our newly acquired domain…
How To Install WordPress Automatically
Working Inside The WordPress Dashboard
How To Change Your Site Title and Tagline
How To Create Posts and Pages
How To Add a Image to a Blog Post or Page
How To Add a Video To a Blog Post or Page
How To Format Blog Posts and Pages
How To Setup Your Websites Navigation Menu
How To Create a Single Page WordPress Website
How To Change Basic Blog Discussion Settings
How To disable Comments In WordPress
How To Install a WordPress Theme
How To Customize a WordPress Theme
How To Add a Featured Posts Thumbnail
Introducing WordPress Theme Frameworks
Genesis and Canvas WordPress Theme Frameworks
WordPress Widgets
How To Add Users To Your Website
How To Install WordPress Plugins
A List of Common WordPress Plugins
How To Setup and Install WP Super Cache Plugin
How To Install and Activate Plugins on WordPress